Uli Schamiloglu's Home Page
[pronounce my first name Yulay]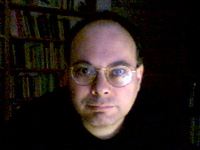 Would you like another photo of me in B&W or color?
---
I was born May 2, 1958 in the Bronx, New York City. I attended PS 70 (1963-1970), JHS. 117 (1970-1972), and the Bronx High School of Science (1972-1975).
I am proud of my Kazan Tatar ancestry. In case you were wondering, my father was Tatar from the village of Mitro-Ayup near Chakmagush in Bashqortostan. My mother was (Mishar) Tatar -- her family was originally from the village of Nagur near Penza -- but she was born in Blagoveshchensk and grew up in China. I have one brother. (I'm proud of him, but he doesn't know that.)
I am divorced. I have two children from my previous marriage. Would you like to see a picture of my lovely family or our most recent New Year's Day greeting?
I received my B.A. (1979) from Columbia College in Middle East Languages and Cultures (now Middle East and Asian Languages and Cultures). Then I received my M.A. (1980), M.Phil. (1982) and Ph.D. (1986) from Columbia University in History .
I taught as a lecturer (1983-1986) and assistant professor (1986-1989) in the Department of Uralic & Altaic Studies (now the Department of Central Eurasian Studies) at Indiana University-Bloomington. Then I received an invitation to help develop a program in Central Asian Studies at the University of Wisconsin-Madison. I joined the Department of Slavic Languages at the University of Wisconsin-Madison, where I was an assistant professor (1989-1993) and associate professor (1993-1998). Beginning in 1996 I helped to develop the new Department of Languages and Cultures of Asia, where I have been an associate professor (1998-2000) and professor (2000- ). I like the colleagues in my new department a lot. I have been chair of the Central Asian Studies Program at the University of Wisconsin-Madison since Fall 2002. I have also been associate director of the Center for Middle East Studies since Spring 2005.
I teach Central Asian Turkic languages, cultures, linguistics, and history. My students sometimes ask me what languages I speak. I am usually too embarrassed to respond, but perhaps it is easier to explain it here. From among Turkic languages I can comfortably speak and teach Kazan Tatar (native), Republican Turkish, Uzbek, and Kazak. I can also converse with speakers of Azeri, Bashqort, Karachay, Kyrgyz, Türkmen, Uygur & other modern Standard Turkic languages, but I cannot respond correctly in their own languages (which are more like dialects). I also have a research knowledge of Chuvash; Tuvan, Yakut and other Siberian Turkic languages; and Old and Middle Turkic languages. (I have taught all of them.)
I also speak French, German, Russian, Hungarian, Arabic (Syrian dialect), and Italian. I have a good research knowledge of classical and modern Arabic and Persian, and a lesser knowledge of Chinese, Polish, Classical Mongolian, Manchu, Spanish, and other languages.
The image below is the "State Coat of Arms of the Republic of Tatarstan". For more on this see www.kcn.ru/tat_en/tatarstan/gerb.htm. (I have "borrowed" the background from that site, too!)

You can learn more about Tatarstan at www.kcn.ru, read news from Tatarstan at www.intertat.ru, listen to or read more news about Tatarstan at www.azatliq.org, or perhaps read something related to Turkic and Tatar languages, cultures, and history that I have written... (see my list of publications).
[revised: January 8, 2007]